Healthcare Center Thrives with Callback, Outbound and Avaya Platform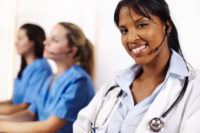 A large healthcare system with multiple hospitals and treatment facilities on the U.S. east coast operates a centralized contact center that handles appointment making and referral management for each of the healthcare system's facilities. Each month, the center answers about 3,500 calls and processes over 4,000 referrals.
Download the Healthcare Case Study
CHALLENGES
With such vital responsibilities, it's important that the center maintain leading technologies that maximize efficiency and offer a premium customer experience. Unfortunately, with legacy technology and growing patient expectations for top-level customer experience, the center needed to make some adjustments.
When decision makers determined it was time to add some new customer engagement capabilities, they turned to their communications systems integrator and INI products and services for help.
SOLUTION
Integration experts at INI upgraded the center to a new Avaya Aura® Experience Portal (AAEP) platform. The latest AAEP version would enable the center to take advantage of customer-experience enhancing options like outbound, text-to-speech and customer callback.
In addition to the IVR platform upgrade, the center's decision makers decided to pair INI Messenger™ with the Avaya Proactive Outreach Manager (POM), which can automate outbound appointment reminder calls, texts and emails. INI Messenger™ gives patients a number of options to respond to the message, such as confirming or cancelling the visit, or transferring to a live contact center agent. The center uses outbound for initial referral calls, giving recipients the option to be transferred to an agent, or to be put on the do-not-call list. If no one answers the outbound call, it leaves a voicemail inviting the patient to call the center.
The center's management also elected to implement INI SureConnect™, an application that allows callers to schedule a callback at their preferred time, or automatically receive a callback when they're next to be served, rather than waiting in a long queue.
RESULTS
With the new capabilities offered by the upgraded Avaya Experience Portal, and benefits of the applications, the contact center is reinforcing its mission to create a positive patient experience with assertive and courteous outreach for its beneficiaries requiring care.
INI Messenger enhances Avaya POM, providing a robust outbound solution that's convenient for recipients and can free up agents for other more-critical tasks. INI SureConnect callback saves the institution money by using fewer costly inbound lines, smoothing agent headcount, and decreasing the rate of abandoned calls, in addition to providing a better experience for callers.
For this healthcare system, INI's services and IVR solutions have helped make calling the doctor a more positive experience.
Improvements include:
More positive patient experience
More productive agents
Balanced agent headcount
Fewer costly inbound lines
Lower abandoned call rate
Contact INI today for more information on how an Avaya Aura Experience Portal solution with outbound and callback can benefit your organization.