Intelligent Callback Application for Avaya Contact Centers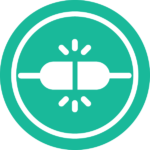 INI SureConnect™ provides callers an alternative to waiting on hold for extended periods of time by allowing them to request a callback from the next available agent or schedule one for a later time.
Download INI SureConnect Brochure
Download INI SureConnect Use Case
Download SureConnect for Financial
One Product – Two Callback Methods
INI SureConnect provides two methods for connecting callers to agents: "CallerFirst" or "AgentFirst." In either case, the caller can terminate the call session and receive a callback when they are next to be served or schedule a callback for a later time. Organizations with multiple contact centers or specialized queues, can choose to use both "CallerFirst" and "AgentFirst" on the same system at the same time—providing maximum flexibility for contact center requirements.
CallerFirst Callback Method
CallerFirst is ideal for mid-sized contact centers, larger contact centers with specialized queues, or any contact center with a high volume of short duration, non-complex calls.
This method automatically launches the callback without agent intervention and notifies the caller they are next to be served and places them in a high priority queue.
Callers are connected to available agents in nearly the same order as if they had remained in queue. CallerFirst alleviates the frustration associated with being placed on hold for extended periods of time and provides callers with a feeling of special handling which typically contributes to increased customer satisfaction.
Agents experience increased productivity since the time spent using the "preview dial" process employed by traditional callback messaging applications is eliminated.
AgentFirst Callback Method
AgentFirst is ideal for contact centers with long hold times and/or complex calls where an agent benefits from reviewing information before connecting with the caller.
With this method, INI SureConnect launches the call to an available agent, provides information about the caller, and allows the agent to control and complete the callback request.
The caller can leave specific information about why they are calling and feel satisfied knowing that an agent who is equipped to handle their request will be returning their call.
Upon receiving a callback request, the agent hears the date and time the request was received, the callback telephone number, and any other information left by the caller. The agent has the ability to replay the information, to pause, to launch the callback, or to delete the request.
INI SureConnect Improves Customer Satisfaction
At INI, we are committed to designing solutions that prioritize customer satisfaction and loyalty by ensuring your customers are served effectively and with greater efficiency. By allowing callers to be in control during situations when waiting is unavoidable, INI SureConnect enhances the customer experience, provides "a better way to wait," and takes your commitment to caller satisfaction to the next level.
Give customers control of how they will wait
Allow customers to choose when they will be called back
Ensure customers the same level of service had they waited in queue
Provide customers with a sense of priority handling
Alleviate customer frustrations often accompanying excessive hold times
Inform customers who already have a place in queue that their callback is still scheduled, assuring them that their request has not been dropped or forgotten
INI SureConnect Improves Contact Center Efficiency
INI SureConnect leverages the advanced technology of Avaya's product architecture to bring a higher level of contact center productivity. Call center resources are better managed by ensuring the system is only placing necessary calls and providing agents with caller information that maximizes productivity.
Decrease call spikes during peak hours by distributing call volumes more evenly (See chart below)
Retain customers who may otherwise hang up and make a competitive choice
Increase agent productivity
Reduce toll costs associated with unproductive time in queue
Increase time agents spend in actual customer interaction
Increase number of customers served
Reduce hold times and abandoned calls
Improve customer service levels
Increase flexibility with options for CallerFirst or AgentFirst callback
Increase cost-effectiveness of inbound call lines
Administer through intuitive web-based interface
Review near real-time data through roles-based administration
Tight integration with the advanced call-routing resources available in Avaya environments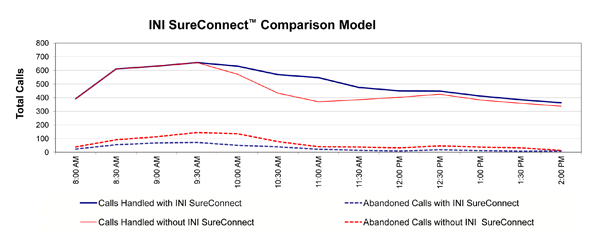 Application Features of INI SureConnect™
Support both enterprise and standalone Contact Centers
Enable callers to request a callback as soon as an agent is available or at a scheduled time
Track caller's original place in queue to accurately initiate callbacks at the right time
Automate the process of connecting the caller to an agent
Modify easily with web-based administration
Enable callback request via Web or mobile device
Universal time zone support
Assign multiple DNIS to a single queue
Enable callers to enter alternate phone number
Capture caller's phone number automatically
Detect answering machines and uncompleted call events
Announce place in line/wait time
Set the number of call slots that are available by hour for each queue
Manually withdraw the callback function
Enhanced reporting and call monitoring capabilities
Optional screen-pop integration
Optional Click to CallBack
Optional Automatic Speech Recognition
Optional Multi-language support
Related News & Articles
INI SureConnect 5.0 Raises the Bar for Callback Solutions
INI Releases INI SureConnect™ 5.0, a Highly Configurable Callback Application
Callback: A Win/Win for You and Your Callers
Top 6 Considerations When Choosing a Callback Solution
Why INI SureConnect™ for Callback?
Request Information About INI SureConnect