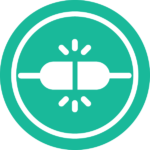 INI SureConnect™ allows callers to request a callback instead of waiting in queue, and offers them the choice of receiving a callback at the earliest availability or at a later time. By giving callers an alternative to waiting, INI SureConnect improves the customer experience, and takes the caller satisfaction commitment to a higher level.
Available Agent First and Caller First callback methods provide organizations with the flexibility to either give agents time to review caller information before the callback or immediately launch the callback when the caller is next in queue, without prior agent interaction.
Download INI SureConnect Brochure
Download INI SureConnect Use Case
Download SureConnect for Financial
Benefits of INI SureConnect
Increases agent productivity
Decreases abandoned calls
Balances peaks and valleys in the contact center
Reduces total costs by shifting talk time to less costly outbound lines
Optimizes workforce management
Provides operational flexibility
Offers fast return on investment
Features of INI SureConnect
Simultaneous support for Caller First and Agent First modes
Immediate and scheduled callback requests
Estimated wait time and place in queue announcements
Support for integrated caller-data agent screen pop
Basic automatic speech recognition input
Click-to-Callback web and mobile API
Fully compatible with Avaya Call Center Elite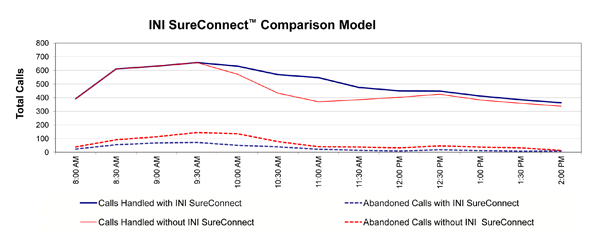 Additional Information
Caller First Callback Method
Caller First
automatically launches the callback request without agent intervention and notifies the caller when their position in queue is next to be served. The caller is contacted and then connected to the agent.
In Caller First mode, CTI resources are used to note position in queue when callers initiate callback requests. When a particular caller's position moves to the top of the queue, the application launches a return call to that caller. The call is then placed in a high priority queue, ready for immediate delivery to the next available agent.
This strategy results in better agent utilization, since the caller is already on the line when the agent is engaged.
Caller First is ideal for any contact center with a high volume of short duration, non-complex calls or those with many specialized queues.
Agent First Callback Method
Agent First
initiates the call to an available agent with information about the caller, and allows the agent to control and complete the callback request.
Agent First mode gives the agent the ability to preview information such as the date and time the request was received, the callback telephone number and any other information the caller left, better preparing the agent to handle the call. The agent can replay and pause the information, launch the callback or, depending on the configuration, delete the request.
Agent First is ideal for contact centers with lower call volumes, long hold times and/or complex calls where an agent benefits from reviewing information before connecting with the caller.
System Requirements
Avaya Aura® Experience Portal 7.0 or later with an Avaya Orchestration Designer Runtime License
INI Application Environment
INI SureConnect License
Avaya Communication Manager 5.2 or newer
Avaya Application Enablement Services 4.2x or newer
H.323, H.323/SIP, or full SIP Experience Portal connections
For spoken input, compatible Automated Speech Recognition server and license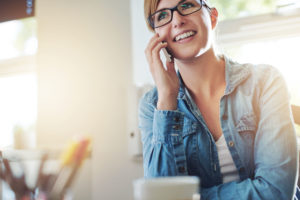 Related News & Articles
CASE STUDY: Healthcare Center Thrives with INI Callback and Outbound Solutions
Five Mistakes You May be Making with Your Callback Strategy
How I Learned to Stop Waiting and Love IVR
Can you really afford not to offer callback?
Proven Solutions For Helpdesk Efficiency – An Untapped Vertical
INI SureConnect 5.0 Raises the Bar for Callback Solutions
INI Releases INI SureConnect™ 5.0, a Highly Configurable Callback Application
Callback: A Win/Win for You and Your Callers
Top 6 Considerations When Choosing a Callback Solution
Why INI SureConnect™ for Callback?
Request Information About INI SureConnect