Menu and Announcement Application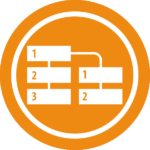 INI AudioMenus™ is an easy-to-use, web-based administration tool that creates full-featured IVR menus and announcements for the Avaya Aura Experience Portal (AAEP) platform. The intuitive user interface enables administrators to easily create and deploy sophisticated routing applications in minutes without the need for coding or external development and support.
Download INI AudioMenus Brochure
Download INI AudioMenus Use Case
Uses for INI AudioMenus
Menu applications created with INI AudioMenus may include:
Announcements which can be created and batch uploaded or selected individually
Alerts which can be changed remotely at any time by users with administrative privileges
FAQs which can be modified as often as needed to address common or seasonal caller inquiries
Menus with up to 12 selection options which can transfer to an agent, to a self-service application, or to another audio menu
INI AudioMenus offers a robust set of features that provides administrators with flexibility when creating inbound call routing applications. Unique announcements and menus may be scheduled by day of week and time of day for an unlimited amount of variation, accommodating business needs. In addition, 24 hour holiday greetings and menus may be configured by date to override the daily schedules. Once a menu application has been completed, INI AudioMenus contains a built-in configuration auditor that may be run to find unrecorded announcements and unused recordings to help validate the application. A color coded call flow may be generated for a convenient visual representation of the routing options.
Benefits of INI AudioMenus
Simplify Administration of Automated Menus
INI AudioMenus removes the complexity from creating and deploying sophisticated self-service menu and announcement applications. Administrators create call flows, configure options, and upload audio files directly from the web-based admin screens, eliminating the need for complex coding.
Reduce Need for External Application Development
INI AudioMenus empowers administrators to independently build, manage, and edit routing applications entirely within the AAEP environment, eliminating the need and expense of calling in an external application developer when a new application or modifications are required.
Increase Agility and Responsiveness
Menu applications may be created and deployed or edited in as little as 30 minutes, enabling administrators to quickly adapt to business needs and changes in customer sentiment. The time and resources saved contribute to operational efficiency by reducing costs and improving responsiveness. Organizations are able to keep options and greetings finely tuned to caller needs, preserving customer loyalty and satisfaction.
Ideal Environments for INI AudioMenus
INI AudioMenus is ideal for contact centers that require the flexibility to:
Accommodate a business environment that requires frequent changes of announcements and menu options.
Independently create front-end call routing for self-service applications and diverse contact center agent pools.
Implement an auto attendant that easily accommodates unique scheduling and business needs.
Update prompts remotely when urgent changes need to be implemented.
INI AudioMenus Features
Quickly create and deploy IVR menu applications
Upload unlimited greetings and announcements
Batch upload multiple audio files
Record alert messages remotely
Integrate with external applications
Schedule unique greetings and menu options based on day of the week and time of day
Schedule holiday override greetings with unique menu options
Create groups, users and organizations for admin access
Generate color coded call flows
Validate for unrecorded or unassigned attributes with built in configuration auditor
Populate UUI with DNIS/ANI (or other variables) for integration with third party screen pop applications (additional licensing required)
Powerful Options to Enhance INI AudioMenus
INI AudioMenus' rich feature set may be expanded with additional functionality to accommodate business needs and an enhanced user experience. INI AudioMenus may be licensed for automatic speech recognition* and UUI collection to be used when integrating with third party agent desktop applications*.
Automated Speech Recognition
Give your callers the convenience of a truly hands-free experience with Automated Speech Recognition (ASR)*. When enabled for ASR, callers are able to speak their selections as they navigate through the menus. Options are available for both "barge-in" and "press or say" functionality.
Agent Desktop Integration
Empower your agents with access to useful caller information when interacting with customers. INI AudioMenus may be licensed for User to User Information (UUI) collection. When enabled for UUI, administrators may configure routing applications to capture caller ANI and DNIS, or define unique UUIs to collect custom parameters. On transfer, a third party agent desktop application uses the UUI information to retrieve caller data from the corporate database and pass it to an agent's screen, resulting in higher first call resolution rates and an enhanced agent and caller experience.
 * Requires appropriate licensing and supporting technologies. 
INI AudioMenus Environment
INI AudioMenus has been designed for the Avaya Aura® Experience Portal platform. INI AudioMenus may be customized with feature enhancements based on customer requirements.
Related News & Articles
INI AudioMenus, Call Routing that Puts You in the Driver's Seat!
Interactive Northwest, Inc. Introduces INI AudioMenus™
Request Information about INI AudioMenus™