Inisoft and INI Announce Partnership Streamlining Agent Desktop Integration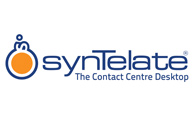 CITYPOINT, GLASGOW, SCOTLAND, and TUALATIN, OR, USA– Inisoft, one of the UK's leading software companies, and Interactive Northwest, Inc. (INI), developer of comprehensive interactive voice recognition (IVR) and contact center integration software, today announced their partnership to streamline agent desktop integration for contact center solutions built upon the powerful Avaya Aura@ Experience Portal (AAEP) platform with the synTelate® desktop application designed for inbound, outbound, and blended contact center environments.
Through its flagship product, synTelate, Inisoft specializes in providing contact center desktop customization and scripting solutions focused on meeting the growing needs of the customer service environment. synTelate is a powerful agent desktop application that integrates information from multiple data sources and telephony systems into a single agent desktop, contributing to a significant increase in operational efficiency.
"Successful enterprise-level contact centers demand nimble solutions that empower agents to interact intelligently with today's tech-savvy caller," said Chuck Van Meter, President of INI. "With its robust data integration and drag-and-drop desktop tools, synTelate places everything an agent needs right at their fingertips. We are excited to offer the synTelate agent desktop technology as part of the contact center solutions we develop for our partners."
This partnership, which opens up new project delivery options for synTelate, authorizes INI to acquire, license, deploy, and support synTelate in solutions they develop for systems integrators, Avaya business partners, and end customers. synTelate is currently the only desktop solution tested and certified to work with Avaya Proactive Outreach Manager (POM) for agent-based outbound campaigns.
"We are looking forward to a long and successful partnership with INI," stated John Goodram, Director of Technology at Inisoft Limited. "Having an in-country delivery partner is greatly beneficial to the synTelate users, Avaya business partners, and, of course, Inisoft."
 INI delivers award winning contact center solutions and has deep technological expertise in delivery, deployment, and project management. These skills make them a perfect partner for the delivery of the synTelate agent desktop solution. INI has been fully trained and certified by Inisoft in the implementation and support of synTelate.
synTelate is also fully supported, directly, by the Inisoft team for all customers in the UK and abroad.
About Inisoft Ltd
Inisoft is a leading provider of software solutions, which are focused on meeting the needs of the customer service environment. Its products provide differentiated capabilities to contact center clients and a wide range of other organizations in over 20 countries throughout Europe, the Middle East, and North America. For more information, call +44 (0)800 668 1290 or visit www.inisoft.co.uk
 About Interactive Northwest, Inc.
Interactive Northwest, Inc. (INI) develops innovative interactive voice response (IVR), computer telephony integration (CTI), and self-service applications for high-volume call centers in markets such as government, healthcare, finance, utilities and service industries. A strong commitment to platform expertise, seamless systems integration, and project management excellence uniquely positions INI to provide value to its customers. As a long-standing partner in the Avaya DevConnect program and developer of call center speech applications, INI has a deep history in deploying applications on Avaya platforms—making it a reliable partner capable of delivering results that promote the success and profitability of its customers. For more information, call +1.800.732.3236 or visit www.interactivenw.com