Interactive Northwest, Inc. Introduces INI AudioMenus™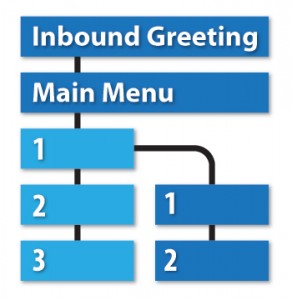 TUALATIN, OR – Interactive Northwest, Inc. (INI), developer of comprehensive interactive voice response (IVR) and contact center systems integration software, today announced the release of INI AudioMenus, a web-based administration tool that creates full-featured IVR menus and announcements for routing inbound calls on the Avaya Aura® Experience Portal (AAEP) platform.
INI AudioMenus has been designed to streamline the creation, deployment, and editing of sophisticated call routing applications, allowing administrators to independently implement and manage front end applications without an extensive knowledge of complex coding. It includes convenient tools for batch uploading audio files, recording alerts remotely, validating application configuration, and generating color-coded graphic call flow diagrams.
By reducing dependence on external application developers and the amount of time it takes to create and implement changes to a front end menu and announcement application, INI AudioMenus drives down costs in the contact center. Organizations are able to quickly adjust their inbound call handling to support changes in business directives or respond to changes in customer behavior and expectations.
"INI AudioMenus brings a new level of agility to the contact center," explains Danette Craig, Director of Operations at INI. "Since no knowledge of code is required, you can respond to needs almost instantly, adding new support channels, changing routing paths, or even updating greetings and options to be more customer relevant. This can save weeks, or even months, over relying on external support."
"Business success is wholly dependent on the customer experience. The application that greets your callers provides the first impression they will have of your organization and sets the tone for the interaction," says Chuck Van Meter, President of INI. "INI AudioMenus places the ability to keep this vital, customer-facing application up to date and in the hands of your organization. We are pleased to offer this additional capability to our clients."
About Interactive Northwest, Inc.
Interactive Northwest, Inc. (INI) develops innovative interactive voice response (IVR), computer telephony integration (CTI), and self-service applications for high-volume call centers in markets such as government, healthcare, finance, utilities and service industries. A strong commitment to platform expertise, seamless systems integration, and project management excellence uniquely positions INI to provide value to its customers. As a long-standing partner in the Avaya DevConnect program and developer of call center speech applications, INI has a deep history in deploying applications on Avaya platforms—making it a reliable partner capable of delivering results that promote the success and profitability of its customers. For more information, call +1.800.732.3236 or visit www.interactivenw.com.