5 Ways to Reduce Customer Effort
by Interactive Northwest, Inc.
A Simplified Approach to Customer Service Can Make a Difference
If you think satisfying customers is a complicated process, you're absolutely right! But it may not be as difficult as you've been led to believe. For years, the customer service industry has promoted delighting customers as the gold standard for encouraging satisfaction and repeat business.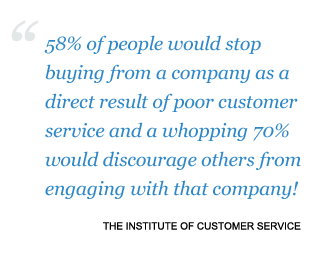 Service centers have responded to this mandate by reversing fees, offering account credits, providing free products or extended service; but is this really what customers want? Research conducted by the Harvard Business Review indicates that what callers truly want is a simple, convenient, low effort resolution to their issue. No matter what perks you may offer, if the process is difficult, satisfaction declines and future business is at risk.
Customer Effort Remains Far Too High
In spite of a gargantuan effort in our industry to improve customer satisfaction, the Harvard Business Review study found that customer effort is typically very high.
56% report having to re-explain an issue
57% report having to switch from the web to the phone
59% report expending moderate to high effort to resolve an issue
59% report being transferred
62% report having to repeatedly contact the company to resolve an issue
So how much do these experiences matter to your customers? A recent study by the Institute of Customer Service found that 58% of people would stop buying from a company as a direct result of poor customer service and a whopping 70% would discourage others from engaging with that company! Bottom line, if your organization is not focused on removing obstacles to resolving customer issues, revenue and future business will suffer.
5 Ways to Reduce Customer Effort
With just a few shifts in your approach to customer service, you can significantly shorten the gap between a customer and the solution to their problem. Here are 5 ways to make real progress reducing customer effort:
1. Shift Focus to Resolution.
Forget about call times. Your contact center mandate should be providing a smooth resolution to customer issues. Put tools in place to minimize transfers, hold times, requests for duplicate information, or the need for customers to switch channels for a single issue. Free your staff to take whatever steps are necessary to resolve each caller's need in the first call.
Learn more about intelligent routing applications >>

2. Be Proactive. 
As you monitor customer behaviors, patterns will emerge.  Successful companies put measures in place to anticipate customer issues and proactively implement tools to prevent or resolve them ahead of time. Notifying customers of upcoming appointments or past due accounts, for example my head off emotionally charged calls down the road.
Learn more about proactive applications >>

3. Automate Routine Calls. 
Many customer issues can be addressed through self-service. Create interactive website tools and robust IVR applications to manage common customer requests (bill payment, account status, outage notification, appointment reminders, etc). Make these tools as efficient and customer friendly as possible to prevent the need to change channels while resolving a single issue.

4. Put the Care Back in Customer Care.
Equip your agents with tools to deal with the emotional component of caller needs. Avoid the temptation to use cost per call as your primary metric. The true cost of a call may be much more than you think if the customer experiences frustration during the interaction. Give your agents the freedom to take whatever steps are necessary to resolve customer issues and instill confidence that the callers needs will be addressed.

5. Pay Attention to Dissatisfied Customers.
Allow information collected from dissatisfied customers to drive continuous improvement. You can protect future revenue by making changes based on their feedback and ensuring that other customers do not follow the same path.
Learn more about post-call survey applications >>
Despite overwhelming evidence that negative customer interactions significantly increase defection, customer effort remains very high. Clearly, there is plenty of opportunity for savvy business leaders to make simple improvements that will result in a powerful competitive advantage. Self-service automation offers elegant solutions that are proven to effectively combat each of these obstacles to first call resolution. Contact INI to explore customer experience solutions that will take your customer engagement model to the next level.
Other articles in this series:
Part 2: Three Ways to Measure Customer Satisfaction
Part 3: Five Steps to an Effective Customer Feedback Program