INI LaunchPort™ 2.0, A Better Way to Connect
by Interactive Northwest, Inc.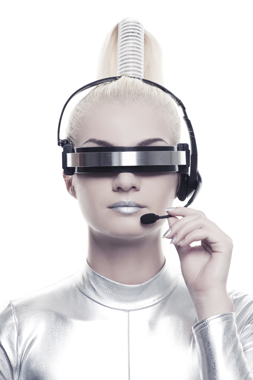 Wouldn't it be great if your phone system could read a caller's mind and connect them to the exact resource they need as soon as they enter into your contact center? Sure, it seems kind of like Captain Kirk meets Lily Tomlin – the kind of stuff that makes for good prime-time sci-fi, but until our smart phones are equipped with thought transmission apps – intelligent call routing solutions offer an impressive alternative without having to be a mind reader!
In today's technology driven world, people's expectations are rising at a dizzying rate; solutions like automatic call distribution (ACD) technology, that offer basic routing, simply will not do. Leveraging a targeted routing application, like INI LaunchPort™ 2.0, expands upon this basic functionality by gathering information from a number of sources to more accurately connect callers to the most appropriate agent or self-service application.
Ultimately, the goal is to decrease the number of transfers and the overall time required to resolve a customer issue, thereby offering optimum customer service. You don't have to be telepathic to know that this makes for happier customers. In addition, agents are utilized according to their skill level and more of their time is spent resolving customer issues, significantly increasing productivity. The result—a much more effective call center.
That all sounds great, right? No annoying Klingons, fewer ringy-dingys—everybody's happy! But, let's take this concept for a spin and see exactly how beneficial INI LaunchPort can be when the rubber meets the road!
Priority handling of valued clients
Suppose you direct a contact center for an airline that offers enhanced benefits to your repeat customers through a frequent flyer program and one of your premium members calls. INI LaunchPort can be configured to access the caller's account infromation, check it against your database*, recognize the callers status, and route them through to a priority queue.  Your most valued customers are offered a superior level of service, contributing to a better rate of customer retention.
Bill pay/collections interception
Imagine you are managing a contact center for a financial institution, and a call comes in from a customer with a delinquent credit card account. INI LaunchPort can be configured to look at the person's account* and automatically connect them to an agent who can receive their payment or escalate as needed—protecting valuable revenue streams and minimizing expenses associated with collection activities.
Last agent/caller history
Let's assume that you are the administrator of a technical support center for a software company and a customer makes a call on an open ticket. INI LaunchPort can be configured to access the customers account and route the call to the agent they have been working with throughout the process, while supplying the agent with the client's account information and a history of the service to date*. The customer avoids the frustrating process of repeating information that should already exist in the system and speaks with a familiar agent that can offer faster service.
Floodgate message
Now let's imagine that you are responsible for managing the contact center for a utility company during severe weather conditions. Entire sections of your grid are without service and your call center is flooded with calls from concerned customers. INI LaunchPort can be configured to deliver a floodgate message to all callers from specified areas, informing them that you are aware of the service outage, and provide a timeline of when you expect service to be restored. The message can be changed with status updates as the repairs are being implemented thus resolving a plethora of calls, without the need for an agent.
INI LaunchPort is a highly configurable application offering an affordable option for intelligent call routing. Contact center administrators are given the the ability to manage how callers are identified as early in the call as possible. Early identification speeds call resolution resulting in an improved customer experience. Contact INI to speak with a representative about how INI LaunchPort can streamline your call routing needs.
*This functionality requires integration with additional applications or systems.