INI LaunchPort™ – A Key to First Call Resolution
Author: Kirk Jesser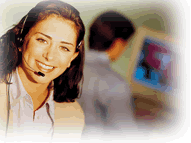 The concept behind first call resolution (FCR) is to direct a caller to the best resource available to meet the caller's needs without additional handling. Many contact centers attempt this by providing a series of menus and prompts (which may or may not pertain to the caller's needs) to narrow down the possible resources required to service the call.
Overly layered and complicated choices offered by automated systems have sometimes been referred to as "IVR Jail." And the resulting negative image has caused many organizations to avoid deploying potentially beneficial call routing resources to assist callers.
But today's callers expect their needs to be handled as efficiently as possible. Being transferred or placed on hold for indefinite amounts of time can frustrate callers and may drive them away. The dilemma for many organizations, then, becomes how to provide excellent customer service by routing calls accurately and effectively without placing an extra burden on staff.
One fundamental key to achieving FCR is the ability to identify who the caller is. From there, why the caller is calling can often be determined based simply on the status of their account. For example, if a client is past due on their account, they may want to make a payment or talk with someone about scheduling a payment plan.
Efficiently routing callers to the most appropriate resource benefits the caller and the organization. In the example above, there may be a business process imperative to move the caller to the Accounts Receivables department before allowing further transactions to occur. Or, if a caller has multiple products in their portfolio, routing them to the most experienced agent available might be preferred. A VIP account could be routed to a high-priority queue to ensure their satisfaction. In some cases, routing the caller to the agent who last handled their account is desired. When a widespread technical issue occurs, playing a simple message at the beginning of the call can reduce a potential flood of angry customers taking out their frustration on call center agents.
INI LaunchPort™ has been designed to accomplish these routing tasks. A highly configurable, advanced call routing software application developed for use with the Avaya Voice Portal, INI LaunchPort consists of the following key components:
Caller Identification - Callers can be identified in two ways: First, the application can use the caller's telephone number identification (ANI) to submit a web services request to a host system to look up who they are. Second, the application can ask the caller to provide their unique identifier (i.e. Account Number, Member ID, Zip Code, etc.).In some contact centers with an ability to obtain their customer's phone number (i.e., Healthcare, Utilities, Education, etc.), routing decisions can be made without even asking the caller who they are. For others, a simple prompt for identification is all that is required to determine the best resource for handling the caller.

INI LaunchPort includes a web services API that facilitates communication with backend host data systems, providing an easy-to-use, open standards interface to connect to. INI LaunchPort also includes the ability to store data locally. Based on established business rules, calls can then be dynamically routed to a self-service application, to a particular extension, or into a contact center queue.

INI LaunchPort has also been used to facilitate a screen-pop, either through INI CTInsight™ or Avaya Contact Center Express. This allows the agent to immediately engage with the caller without having to ask them to repeat their account identification.
Unique Greetings - INI LaunchPort assigns "call types" based on the phone number that the call is received from via Dialed Number Identification Service (DNIS). Each call type can be configured with a unique greeting to represent the department or product line the caller is trying to reach.
Floodgate Messaging - A floodgate message is recorded and activated when an event has triggered a spike in calls. For a utility company, this might be due to a power outage. For a help desk, it might be due to a network outage. For a ticket sales office, a surge might be caused by callers trying to order tickets before they are available. A floodgate message might also be used to announce a future event, such as alternate directions due to an upcoming construction project or an early closure announcement due to weather concerns.

In the example below, a multiple clinic medical office is using INI LaunchPort to provide unique greetings for each office based on the telephone number called. A floodgate message can be invoked to announce things like times and dates for currently offered influenza clinics. After hearing the message, callers are transferred to a centralized scheduling department.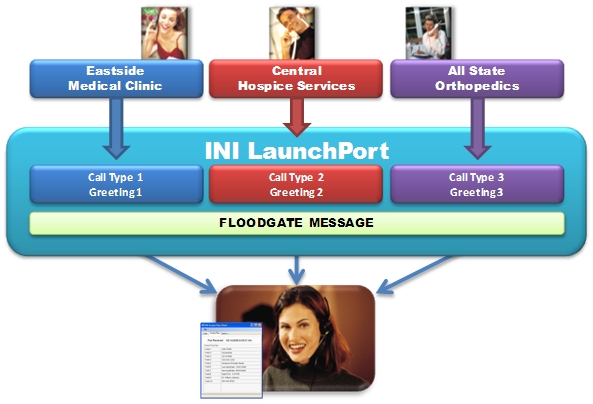 Not all calls can be resolved on the first try; however, INI LaunchPort has been created to help contact centers get closer to that goal.
By routing calls to the most appropriate agents where FCR can be achieved, call volumes can be decreased by reducing the number of call backs. Agent efficiency also increases as less time is spent transferring or adding an additional resource to assist on a call.
Contact INI to find out how INI LaunchPort can be configured to meet the needs of your organization.